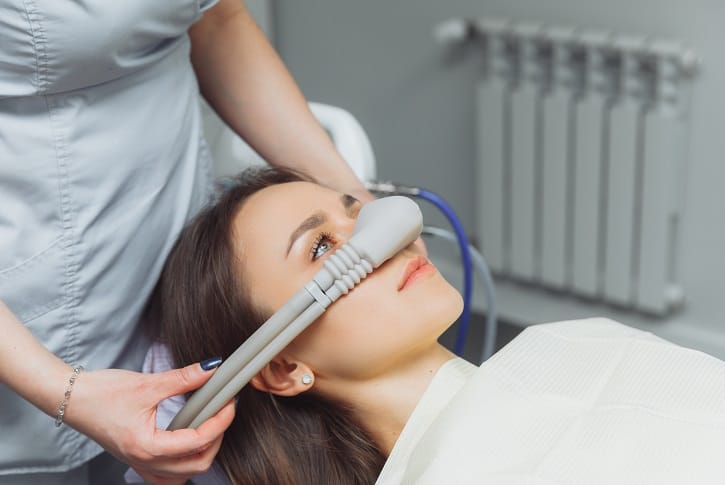 Soothing Options To Ease Dental Anxiety
Dr. John Krell offers sedation dentistry to patients in Houston who are nervous about undergoing dental procedures. Whether you have had a bad experience in the past or are nervous about having dental work done, our doctors completely understand and can offer a variety of safe and efficient options. Their calm and gentle demeanor puts many patients at ease right away. However, for those who need a little extra help, they can offer oral conscious sedation and nitrous oxide (laughing gas). Many patients actively avoid the dentist because of their anxiety. By removing that barrier, you can become more proactive and finally get the dental care that you need and deserve.
The Benefits of Sedation Dentistry
One of the biggest benefits of sedation dentistry is its ability to eliminate discomfort, which in turn helps to ease patients' anxiety over treatment. Often overlooked is another important benefit: more dental work can be accomplished when you are sedated. This means fewer office visits and even less anxiety. Fewer office visits also translate into reduced costs. Because you are comfortable and sedated, your doctor can work faster as well. This means your total time in the chair will likely be shorter.
Sedation dentistry is also extremely safe. In fact, nitrous oxide has been safely used in dentistry for many years. With both gas and oral sedation methods, you will be conscious throughout the procedure while feeling almost no discomfort whatsoever. Nitrous oxide is administered through a mask while oral conscious sedation is administered via a pill.
Oral Conscious Sedation
If just the thought of going to the dentist is enough to make your heart beat faster, then oral conscious sedation may be able to help you. You'll be prescribed a pill to take about an hour before your procedure, and by the time your treatment starts, you'll be physically and mentally relaxed. Many patients say that it makes time fly by and that they have little to no memory of their experience afterward.
Nitrous Oxide Sedation
Nitrous oxide, or "laughing gas," has been used for years to help slightly nervous patients "take the edge off" of their dental anxiety. The gas, which is inhaled via a small nasal mask, is said to create a warm, comforting feeling, and many patients describe it as a gentle, floating sensation. Also, once the mask has been removed, the effects wear off within minutes with no lasting drowsiness, meaning a patient will be able to go on about their day as normal.
IV Sedation
This form of sedation is ideal for patients with extreme dental fear, those who want to have multiple procedures performed in one appointment, and those who have difficulty sitting still in the dental chair (such as those with neck or back problems). This approach is safe, powerful, and very fast acting. Even better, it is easily adjustable, which means that Dr. Krell will be able to make sure you're perfectly comfortable during your entire treatment. It allows us to treat even the most nervous patients with relative ease.
Contact Us Today for Sedation Dentistry Services in Houston
To ensure that sedation dentistry is appropriate for you, our doctors will analyze your medical history, consider your current health, and ask about any medications you are currently taking. Whether you are an anxious patient or need to complete several dental treatments in as few visits as possible, sedation dentistry is a safe and beneficial option. Schedule an appointment with us today and see what it can do for you.