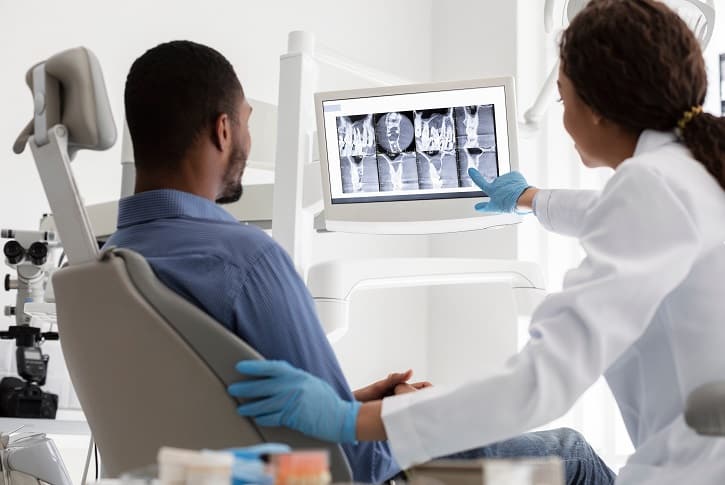 Providing river oaks with superior quality
Dr. John Krell offers advanced dentistry and the latest dental technology (including lasers) here at his Houston practice. This approach allows our team to preform state-of-the-art dental procedures that will result in beautiful, long-lasting smiles!
We take pride in seeking out the best dental equipment, the most practical treatment programs, and the least invasive technology to deliver world-class restorative and preventive care to our patients. To learn more about the latest dental technology and advanced dentistry we offer, simply choose from the links below.
TMJ Therapy
The hinges on your jaw that connect it to your head are called the temporomandibular joint (TMJ), and like any other joint in the body, it can become strained or injured. This often leads to a condition known as bruxism, where a patient unconsciously clenches their jaw and grinds their teeth at night. Over time, bruxism can progress to the more serious TMJ disorder. Thankfully, our team can treat a wide variety of jaw alignment problems right in our office, and we will always keep an eye on it during your regular checkup.
Sedation Dentistry
This variety of techniques can be used to help a patient who is nervous about going to the dentist. We offer nitrous oxide sedation, oral conscious sedation, and even IV sedation. All in all, if you've avoided the dentist for years because of fear, these techniques will be able to calm your nervous mind and protect you from feeling any physical discomfort. We promise they'll give you the easiest dental experience of your life!
Intraoral Cameras
An intraoral camera is an advanced device that broadcasts images for both the patient and dentist to see. Instantaneously, the images are sent to a computer screen so that both you and your doctor can review your oral health together.
3D Scans X-Rays
This state-of-the-art equipment can created high-resolution X-rays in less time while emitting up to 90% less radiation.
CEREC One Visit Dentistry
CEREC is the world's only system that allows for the design, fabrication, and placement of all-ceramic dental restorations in just one office visit. With CEREC, you can be in and out of our office with a permanent, all-ceramic crown, onlay, or veneer in just about an hour! For you, this means fewer injections, less drilling, and less time out of your hectic schedule for dental care.
Snoring Treatment with SILENT NITE
With the SILENT NITE snore prevention device, we can provide our patients with cost-effective relief that leads to a good night's sleep!
Laser Dentistry
During a dental laser treatment, a device that transmits a highly concentrated beam of light is used to treat tooth decay, enamel, and gum tissue. Common laser dentistry procedures include oral surgery, periodontal treatment, cavity treatment, and even teeth whitening. We can use this high-tech treatment for both children and adults.
Laser Cavity Detection
Another piece of advanced dental equipment is the DIAGNOdent Laser by the Kavo. It detects even the smallest cavities at the earliest possible stages. It actually looks beneath the surface of your teeth to detect decay "from the inside."
Invisalign® Clear Braces
We are proud to offer Invisalign® clear braces as an alternative to using traditional braces to straighten your teeth. Dr. Krell has helped many patients get the straighter smile they've always wanted and feel confident while doing it thanks to this advanced treatment.
Dental Implants
With dental implants, you can permanently replace your missing teeth, whether that's a single tooth, multiple teeth, or even an entire smile. They look great, last long, and you'll be amazed at what they can do.
Advanced Dental X-Rays
X-rays have been an essential diagnostic tool in dentistry for decades, and in the past, there was really only one kind – traditional film. Thanks to the latest advances, our practice can now use different kinds of radiography in order to diagnose issues quicker and plan procedures more precisely. Plus, these new X-rays are faster and safer, emitting much less radiation than previous methods. Overall, this creates a better experience for patient and doctor alike.