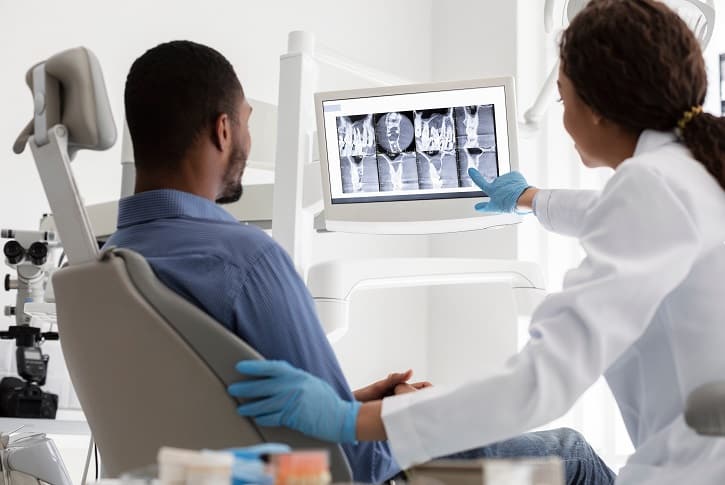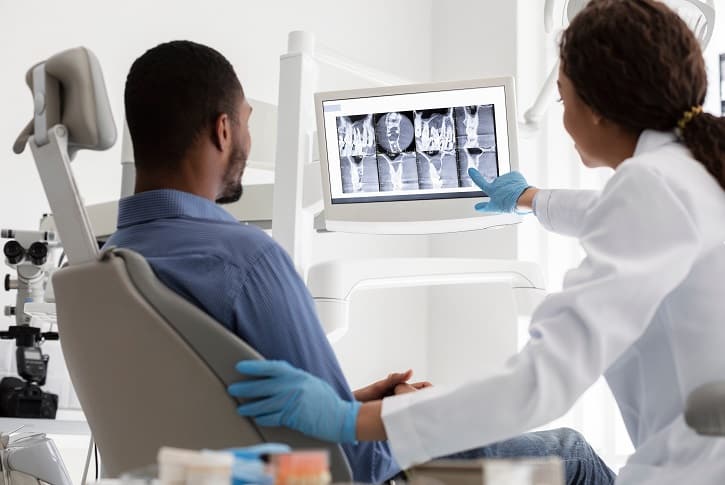 Permanent Solution to Treat Missing Teeth
Now, you have an option to replace your missing teeth with a solution that closely mimics what nature gave you. Dental implants in Houston are a permanent tooth replacement treatment that offers a multitude of cosmetic and health benefits. Dr. John Krell is a highly experienced implant dentist who offers single, multiple, and full arch replacement for patients who need to rebuild their smile. He will help you invest in your quality of life using a treatment that can last for a lifetime.
Benefits of Dental Implants
A dental implant is the only prosthetic to replace the root and the crown. This allows you to enjoy unmatched stability when compared to any other treatment, as well as a variety of other benefits, such as:
Over a 95% success rate to last for several decades.
Look and function like your natural teeth.
Help to preserve your jawbone.
Supports your facial structures to maintain a youthful appearance.
Restore are much as 70% of your natural chewing function.
Improves your oral health.
Cost effective because they should never need to be replaced with the right aftercare.
Indications for Dental Implants
Dental implants can be used to treat all severities of tooth loss if you are a candidate for the procedure. Your dentist in Houston, Dr. Krell performs an initial consultation to ensure they are right for you. He creates a personalized treatment plan depending on the number of teeth you need to replace.
Missing Single Tooth
When both the tooth and root are damaged, the best permanent replacement is a dental implant in conjunction with a ceramic crown.
Missing Multiple Teeth
When replacing consecutive missing teeth in the mouth, a bridge can be held in place using dental implants at either end.
Missing All Teeth
When all the teeth are missing or in such a condition that they need to be replaced, a full denture is anchored to your jawbone using dental implants.
Understanding the Cost of Dental Implants
The amount you pay for your treatment is determined by your individual treatment plan. There is no set price you can expect to pay because the cost varies depending on your specific needs, such as if you require additional procedures and the number of posts needed.
On average, dental implants cost more upfront than traditional treatments, like a fixed bridge, but they are more affordable long-term because they can last for decades. Dr. Krell provides you with an estimate during your initial consultation and discusses your payment options, like using your dental insurance. Although your policy will not pay the entire amount, it may cover certain aspects, such as the restorations. We work with your insurance carrier to reduce the amount you need to pay.
Since your treatment is performed in multiple phases, you can pay the remaining balance over the course of several months to keep it affordable. We also accept several forms of payment, including third-party financing with CareCredit.
If you are ready to restore a strong, beautiful smile, contact our office today to schedule your consultation with Dr. Krell.
Dental Implant FAQ's
Dr. Krell is here to answer any questions you have about dental implants in Houston. You should make sure you have all the information you need before you commit to any kind of dental treatment to repair your smile. Here are just some of the concerns that patients have voiced in the past. Don't be afraid to contact our office if there's anything else you want to know.
Who's a Good Candidate for Dental Implants?
How Long Do Dental Implants Last?
Can Dental Implants Fail?
Do I Need to Do Anything Special to Take Care of Dental Implants?
What Will the Recovery After the Surgery Be Like?