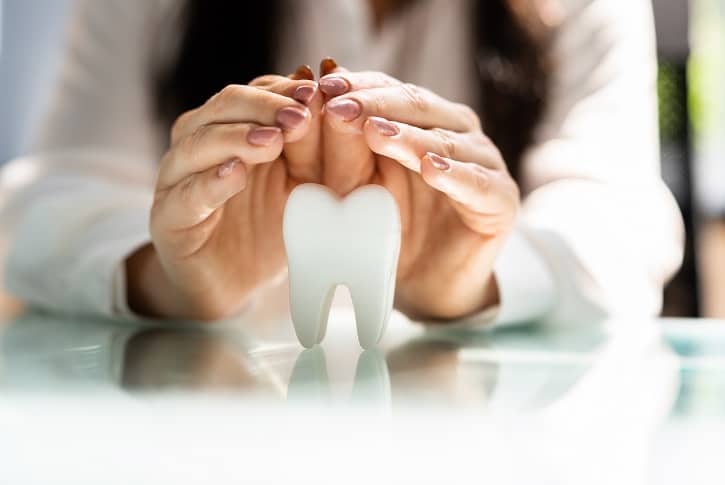 Repair Damaged Teeth in a Single Appointment
Chairside Economical Restorations of Esthetic Ceramic (CEREC®) has transformed how dentists can deliver crowns, onlays, inlays, and veneers. Instead of waiting weeks for a crown after a root canal, you can have it placed during the same visit. The CEREC® machine can create a restoration in under an hour, and it will be ready to be perfectly placed inside your mouth without a second office visit. With CEREC®, Dr. John Krell can provide beautiful and durable same day restorations at his Houston dental office.
How Does CEREC Work?
CEREC® works by using a digital impression of your teeth to design and fashion your restoration. This impression is given to computer-assisted tools and a milling machine that can quickly turn a piece of ceramic into the final product. The dental restoration will come out as strong as a lab-generated restoration and it will even be color-matched to blend in with your surrounding teeth. It will look just like a natural tooth and enhance the beauty of your smile.
The Proven Benefits of CEREC®
Restorations made by CEREC® are durable, especially for people who take care of their teeth. They will also ensure that your bite is aligned as it can fill in gaps left by missing teeth. One of the greatest advantages of CEREC® is its minimally invasive nature that saves as much of your natural tooth as possible. Other benefits include:
Less injections and discomfort
Fewer dental visits
Biocompatible solutions (no metal means no metal allergies)
What are the Components of the CEREC® System?
CEREC® is a kind of CAD-CAM system. CAD-CAM stands for Computer Assisted Design and Computer Assisted Manufacturing. The CEREC® system has three major components:
Acquisition device : This device is home to a high-quality camera and a medical grade computer. The function of this unit is to photograph the prepared tooth. Three-dimensional images are created of the tooth on the screen, which your dentist will use to design the perfect ceramic restoration.
Three-dimensional CAD software : This software allows the dentist to examine the tooth from every angle. It is the closest possible thing to holding your tooth in their hands and rotating it.
Milling device : This unit actually manufactures the custom restoration from the specifications entered into the computer. A ceramic block that best resembles the existing tooth color is chosen and placed into the unit. The milling device produces the restoration the dentist has designed.
Contact your Houston CEREC® Dentist
John Krell, DDS is here to answer all of your CEREC® questions. Contact our Houston dental office to schedule a consultation and to find out if CEREC® restorations are right for you.